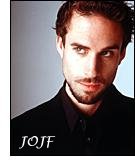 News of the World - UK (1/31/99)
VIRGINS - MY SPECIALITY!
By Garth Pearce
Joseph Fiennes is happy playing roles where he seduces beautiful, innocent women. But his own love life has changed dramatically recently. Garth Pearce reports.
In the new film Shakespeare in Love, Joseph Fiennes romps with Gwyneth Paltrow in the first naked bedroom scenes the actress has done.
Playing the young playwright is the next glittering step on a career that may see Joseph outshine even his brilliant brother Ralph.
The film is hot on the heels of his last hit, the movie Elizabeth I, and is strangely similar in that Joseph's characters is again filmed taking the virginity of the sexy love interest.
"some people have all the luck," he smiles. "My speciality at the moment seems to be virgins!"
But behind the scenes, Joseph, 28, has shocked fans by parting with his long term lover, Sara Griffiths.
And he has revealed his guilt at leaving the girlfriend who helped him to the top.
Instead he has fallen for another actress, Catherine McCormack, 26, taking her on holiday to the Caribbean. They met while recording a radio play together last September. Catherine is best-known for playing Mel Gibson's tragic bride in Braveheart.
Yet in an interview given after they had split, Joseph spoke of how his ex-love Sara, 30, had helped him find fame. "It was a struggle. But she put food on the table and looked after me."
They met at an audition five hears ago when he was still a student, and shared a home and an agent. "We had separate phone lines. So it wasn"t a case of one being disappointed if the other one gets some work.
"It was wonderful to be with a partner who had an understanding of what was happening. Every job has problems, but acting seems to be about constant rejection."
Joseph's new partner Catherine stars as a bride who is having an affair with her hubby's best man in the new film This Year's Love. Meanwhile, Gwyneth Paltrow - who once vowed never to strip for a love scene - says she had no trouble falling into bed with the hunky actor. "We had to show that my character Viola had surrendered completely to Shakespeare," giggles Gwyneth. "In the end it wasn't difficult to do."
Joseph, who clearly felt comfy in Tudor tights and puffed shorts, says "I would put on my own clothes at the end of the day and feel really sad and nondescript. I would be shuffling out in my Levi's thinking "I should not be dressed like this - I"ve just had sex as William Shakespeare"."
Joseph's dangerous looks, dark hair and hazel eyes have made him a sex symbol, like his older brother, Oscar nominee Ralph.
"It helps having a brother who is an actor," says Joseph. "He's helped on speeches or when I'm looking at the work itself. After that you're on your own - no-one is going to give out a job on the strength of a name."
Joseph, with twin brother Jake, is the youngest of seven kids. The family were always on the move with photographer father Mark and late mother Jini constantly buying and selling homes in Suffolk, the West Country and Ireland.
"We had a crazy upbringing," Joseph recalls. "My parents" main income came from selling houses so they could feed and school us. The good thing was, you could start a new school and reinvent yourself.
"I had to communicate and make friends quickly and that is where the acting bug came from. We were all brought up to enjoy art and literature and to be creative.
"Our mother was the inspiration for us to invest time in what we want to do - whatever it is."