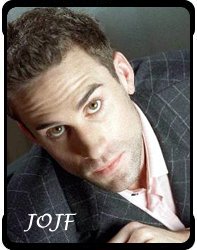 "The Sizzlin' 16 of '99" - E Online
By Veronica Mixon
The wait is finally over for Joseph Fiennes.
This is the year he finally steps out of the long shadow cast by his famous older brother, Oscar nominee Ralph Fiennes, and grabs his own share of the spotlight.
The 28-year-old Joseph, a classically trained actor with several Royal Shakespeare Company seasons under his belt, actually began his big push for center stage at the end of 1998, with strong performances in two critically acclaimed period pieces: He starred as the title character in Shakespeare in Love, opposite Gwyneth Paltrow, and played the tormented lover of Cate Blanchett's titular royal in Elizabeth.
For 1999, Fiennes unleashes his seductive charms in Martha, Meet Frank, Daniel and Laurence, a spring release with Rufus Sewell and Monica Potts.
Then in Rancid Aluminium, Fiennes sinks his teeth into his most villainous character yet, a psychopathic accountant.
And later this year, Fiennes starts work on his first American film, Forever Mine, to be directed by Paul Schrader (Affliction, American Gigolo) and shot in Miami.
And, in case you're wondering, big brother Ralph didn't open any doors for his little brother. "I've been battling for parts in the big marketplace for about five years," says the tall, dashing Joseph.
But there was a good side to his years of struggle. It gave the England-born, Ireland-raised Fiennes a chance to grow out of his crazier ways. "I was a bit wild," he says with a sly grin. "But I'm tamed--now."
So we'll never get to see the dangerous Joseph? "Well, maybe, if I have one or two vodkas too many..."