"The Famous Fiennes Mother's 'Blood Ties'" (New York Times - 7/29/99) by Ralph Blumenthal
Long before she started working on an unfamiliar new computer that gave her migraine headaches and long before she learned she had cancer, Jini Fiennes conceived of her sixth and most ambitious novel, "Blood Ties," a cyclical tale of wounded generations and the redeeming power of love.
Writing again after years of struggle alongside her husband to raise seven children on little money in England and Ireland, she finished the book in 1989 and then absorbed rejection after rejection from publishers.
Now, almost six years after her death, "Blood Ties," written under her maiden name, Jennifer Lash, has been published to growing notice, thanks to the efforts of some of her children and their considerable star power. They include the actors Ralph and Joseph Fiennes, who with their sister Sophie, a documentary filmmaker and producer, flew to New York this week from London for interviews and public readings.
"She had an urgency to realize this book," said Ralph (pronounced Rafe, the English way) Fiennes, 36, as the three sat in the lobby of their SoHo hotel.
Yet, they said, she never shortchanged them for her own work. "She never did, my God!" said Sophie Fiennes. "I mean, no way! She was totally 100 percent there. It was us feeling kind of -- "
"Guilty," Ralph Fiennes finished her sentence. "For taking time away from her."
Jini Fiennes died of breast cancer at 55 in 1993.
It was during Fiennes's filming of the 1996 movie "The English Patient" that he spoke of his mother and the book to Michael Ondaatje, author of the novel on which that movie was based. He in turn referred "Blood Ties" to an editor at Bloomsbury Publishing, Liz Calder, who was moved by the book -- she said that at the end "I literally burst into tears" -- and secured its publication in 1997 in England and last year in the United States. Last year Bloomsbury also republished an out-of-print book Mrs. Fiennes had completed in 1990, "On Pilgrimage," a lighthearted account of a trip among cure seekers to shrines in France and Spain.
Their efforts redeemed a debt of love, suggested Joseph Fiennes, 29. "She had a high-octane kind of need to realize her work so of course she had a lot of frustration," he said. Although she had published five earlier novels, they were not commercially successful.
While "Blood Ties" seems to have been published and reviewed on its merits, Sophie Fiennes, 32, said they knew their celebrity was a factor in boosting interest in it. "We're no fools, we understand why there's a visibility," she said.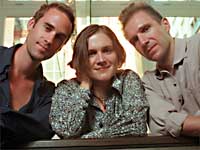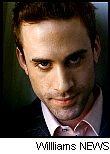 Left - Joe, Sophie & Ralph Fiennes
Right - Joe
Two years ago, they and their four siblings, who also live in England -- Martha, a film director; Magnus, a composer; Jacob, a gamekeeper (and Joseph's twin brother) and Michael Emery, an archeologist whom the family took in as an 11-year-old foster child -- joined their father, Mark, a photographer, in collaborating on a BBC documentary on their mother and her writing and painting; it was broadcast in the United States on the Bravo cable network.
"Blood Ties" tells the story of a gentrifed Irish couple, Violet and Cecil Farr, living desiccated lives and so deeply indifferent to each other that they barely know how they managed to conceive a son. The boy, Lumsden, unloved and ridiculed, grows into a crass and self-centered scoundrel who seduces a barmaid and abandons her and their son, Spencer. A caring friend then dumps the neglected child on Violet and Cecil's doorstep for his grandparents to raise. No better able to love him than their own son, they cast him out into a hostile world where, against all odds, he conquers his demons and, with the fathering of yet another generation and the sacrifice of his life, restores the family's humanity.
Reviewers called "Blood Ties" harrowing, demanding, stark and poetic, while at times dense and overwritten. "A vivid, frightening story of cyclical neglect," The Wall Street Journal said.
Publishers Weekly called "On Pilgrimage" a "luminous record of the solitary journey she undertook."
While not autobiography or veiled memoir, "Blood Ties" indisputably grew out of Mrs. Fiennes' own unhappy childhood. A daughter of the Raj culture -- her father, Hal Lash, was a British officer in India through World War II and her mother, Joan, was a glamorous, distant presence -- she was consigned to the care of nannies. After the war the family returned to a grim existence in England, where she attended a convent school and, in ways the family later shied away from detailing, was molested by her father. "We say he abused his authority as a parent," Sophie Fiennes said. "We really don't want to make a big deal of it because it runs the danger of hijacking the whole thing."
She attended art school but, as she later wrote in a brief autobiographical sketch: "For fairly chaotic family reasons I was unable to continue and subsequently lived alone in London, where I did a variety of singularly menial jobs and had a variety of so-called nervous breakdowns." After undergoing psychoanalysis, she produced her first novel, "The Burial," in 1961. She published a second novel, "The Climate of Belief," the following year and then married.
Her writing all but ceased as she and Mark had six children in rapid succession, starting with Ralph in 1962 and ending with Joseph and his twin, Jacob, in 1970. When Ralph was 2, they took in Michael after seeing a newspaper notice appealing for a foster home for "a very disturbed child" in desperate need of "somewhere where he can read a book."
They moved to Ireland and back, relocating 15 times in as many years as the family struggled financially. Mrs. Fiennes went back to writing and painting as the children grew. She published three more novels, "Get Down There and Die" in 1977, "The Dust Collector" in 1979 and "From May to October" in 1980. But, Sophie Fiennes said, as time passed, "she found it difficult to navigate her way back into the publishing world."
A serial reading by Sophie, Ralph and Joseph from "Blood Ties" and "On Pilgrimage" on Tuesday night at New School University in Greenwich Village quickly filled all 540 seats, shutting out more than a hundred other fans clamoring for a live encounter with the Ralph Fiennes of Broadway's "Hamlet" and such popular films as "The English Patient," "Oscar and Lucinda," "Schindler's List" and "Quiz Show," and the Joseph Fiennes of "Shakespeare in Love, "Elizabeth" and "Stealing Beauty."
After the readings, which were delivered with dramatic intensity and drew eruptions of applause, the Fienneses signed copies of the books, which were sold at the reading, and answered questions.
Someone wanted to know if Sophie, as a director, had considered turning "On Pilgrimage" into a movie.
"Yes, but it has to cook a little," she said. "I'm not sure how to translate her particular voice to the screen."
Ralph Fiennes turned away a question about his forthcoming movie, "Eugene Onegin," being directed by his sister Martha.
"We're here just to talk about books," he said with a pained smile.
Someone else asked whether having a creative mother made it easier or harder to develop their own creative paths.
"Her passion for her children's development was very strong," Ralph Fiennes said. "It was hard for her to know how to divide her time between her children and her own writing. But she was unstinting in her commitment to us to find a way for us to create whatever we had to create."
How did it feel to be publicly reading their mother's work?
"We heard her voice, reading it aloud," said Joseph Fiennes.